Über ein Jahrhundert lang waren Elefanten ein fester Bestandteil des Ensembles von Zirkussen, insbesondere beim Ringling Bros. And Barnum & Bailey Circus.
Was als "die beste Show der Erde" angepriesen wurde, war für die Tiere, die in Gefangenschaft leben mussten, alles andere als angenehm.
poster

Jahrzehntelang wurde die Show von Tierschützerinnen und Tierschützern, wie etwa ASPCA oder PETA, für die schlechte Behandlung der Tiere kritisiert. Sie prangerten an, dass diese majestätischen Tiere nur zur Unterhaltung ausgebeutet wurden und sie bei Reisen menschenunwürdig leben mussten.
Dan Holm / Shutterstock.com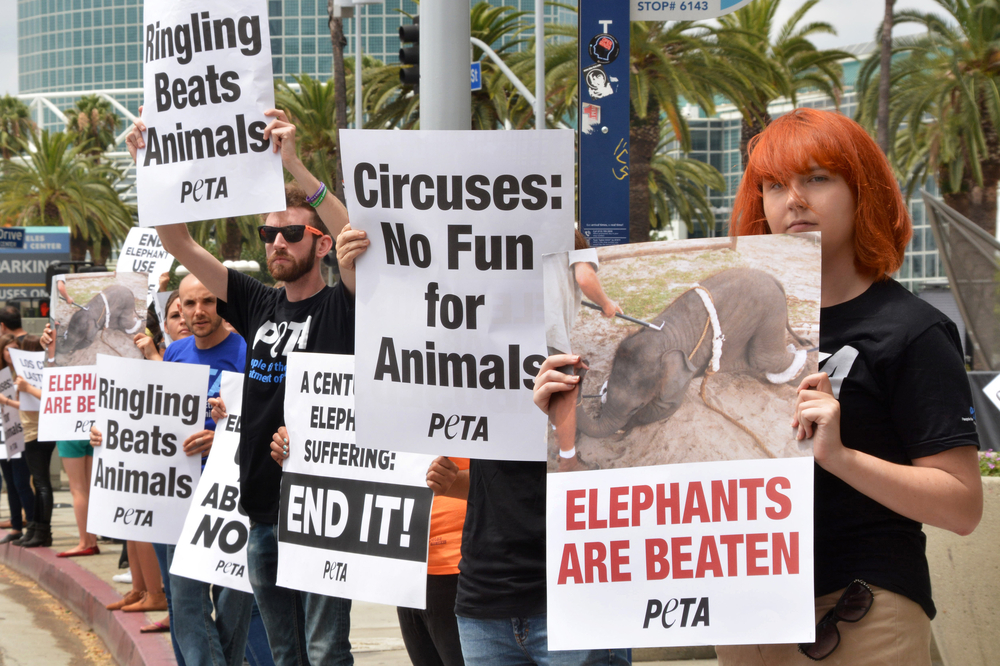 Dann war es endlich 2015 soweit: Die Ringling Bros. entfernten die Elefanten aus ihrer Show und brachten die Tiere in ein Schutzgebiet für Elefanten.
Und in dieser Woche erreichten 12 Elefanten ihr neues Zuhause – und es ist deutlich sichtbar, dass sie sich freuen, das Leben im Zirkus endlich hinter sich gelassen zu haben.
Die Elefanten, zwischen acht und 38 Jahre alt, waren ihr bisheriges Leben immer mit der Ringling Bros. & Barnum & Bailey Show unterwegs, werden von nun aber den Rest ihres Lebens im White Oak Conservation in Yulee, Florida, USA verbringen.
Nach endlosen Stunden in Käfigen und in der Show können die Elefanten endlich die Natur erkunden, die so nah wie möglich nachgebaut wurde.
"Wir sind begeistert, dass wir den Elefanten einen Platz zum Wandern und Entdecken bieten können", sagten die Philanthropen Mark und Kimbra Walter, die das Naturschutzgebiet gründeten.
"Wir arbeiten dafür, um wildlebende Tiere in ihrer gewohnten Umgebung zu schützen. Für diese Elefanten, die nicht in die Wildnis können, sind wir froh, dass wir ihnen einen Platz bieten können, an dem sie den Rest ihres Lebens verbringen."
Tierschützerin Michelle Gadd, die das Projekt unterstützt, war begeistert, als sie sah, welche neuen Bewohner kommen würden.
"Viele Kinder haben den Traum, von zu Hause wegzurennen und im Zirkus anzufangen", sagte sie gegenüber CBS News. "Naja, ich war ein Kind, dass weglaufen wollte, um die Tiere aus dem Zirkus zu befreien."
"Sie müssen nicht eingesperrt oder trainiert werden und um die Welt reisen. Lasst sie einfach da, wo sie hingehören und es gibt nichts Schöneres als das."
In der ersten Phase wurden die Elefanten aus dem Zirkus, dem Ringling Bros., ins Center of Elephant Conversation nach Florida gebracht, die das Unternehmen sponsert. Im vergangenen Herbst entschied das Walter Conservation aber, dass die Elefanten in ein größeres Gebiet kommen müssen.
Um sie in ihr neues Zuhause zu bringen, wurden die Elefanten 150 Kilometer in speziellen Lkws transportiert und wie White Oak angab, waren auch die ganze Zeit Tierärztinnen und Tierärzte sowie Pflegerinnen und Pfleger mit an Bord.
Und schon kurz nach der Ankunft fühlten sie sich sichtlich heimisch.
"Mit anzusehen, wie die Elefanten in das Gebiet entdecken, war ein großartiger Moment", sagte Nick Newby, der Teamleiter.
"Ich war so glücklich, zu sehen, wie sie zusammen rauskamen und sich gegenseitig beruhigten, ganz wie wildlebende Elefanten und dann gemeinsam die Gegend erkundeten. Das erste Bad von ihnen war auch ganz besonders."
"Es scheint, als hätten sie untereinander auch bereits eine Art Hierarchie gegründet", sagte Gadd.
"Sie haben sich vor dem Zaun getroffen und sich dann angeordnet. Sie standen nah beieinander und haben sich gegenseitig die Rüssel in den Mund gesteckt."
In der Zwischenzeit wurde der Ringling Bros. and Barnum & Bailey Zirkus im Guten geschlossen. Am 21. Mai 2017 war die letzte Show.
Wir sind überglücklich, dass die ehemaligen Zirkuselefanten ein neues Leben in Freiheit genießen können.
Teile diese tolle Neuigkeiten.